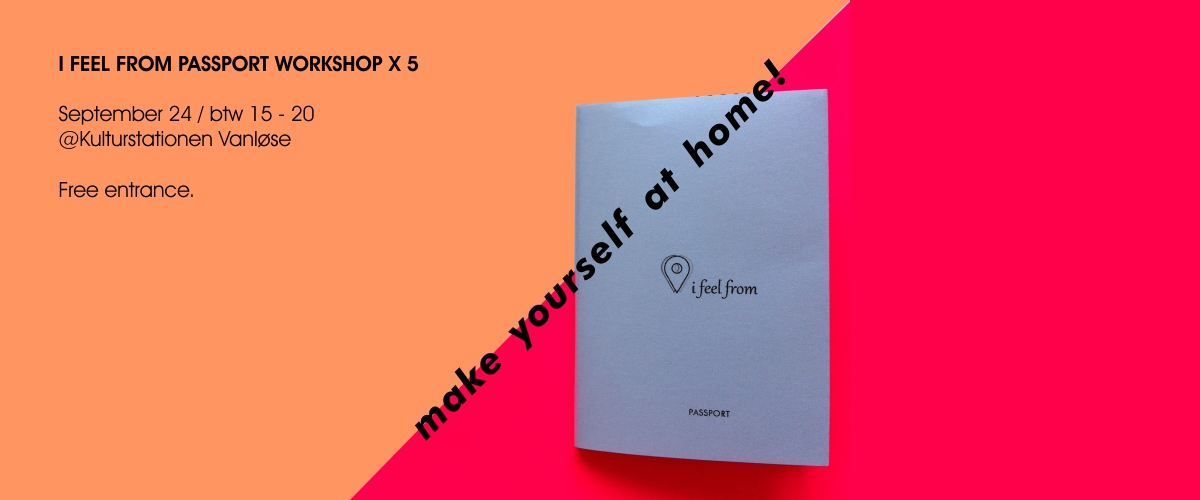 I Feel From Passport Workshop X 5
a chance to design your dream passport
The "I Feel From Passport Workshop" _X5 will represent Culture Connection, as part of the major event: Årstidsfesten, for alverdens børn og voksne i fred og fordragelighed" (Seasonal Feast for all the childern and adults in peace and harmony), that is organized by Kulturstationen Vanløse and Vanløse Lokaludvalg.
I Feel From is a social movement, designed by Hamide Design Studio, aiming to challenge the focus on nationality with a new way of defining self that is based on feelings of belonging to rather than nationality, race or place of birth.
At the I Feel From Passport Workshop, the participants are first encouraged to discuss how they experience their nationality as well as how they experience other cultures and the effect of the other cultures on their identity. Then, the participants will be given blank I Feel From Passports and will be asked to design their own I Feel From Passports reflecting on their identity.
Workshop Language: English
Duration: We will conduct 5 workshops from 15:00 to 20:00 starting every hour. If the participant desires he/she can stay to work further on their passports.
Participant Profile: Anyone is welcome.
24 September 2016
15:00 – 20:00
@ Kulturstationen Vanløse
Frode Jacobsens Plads 4, 1.sal, 2720 Vanløse
Free Entry