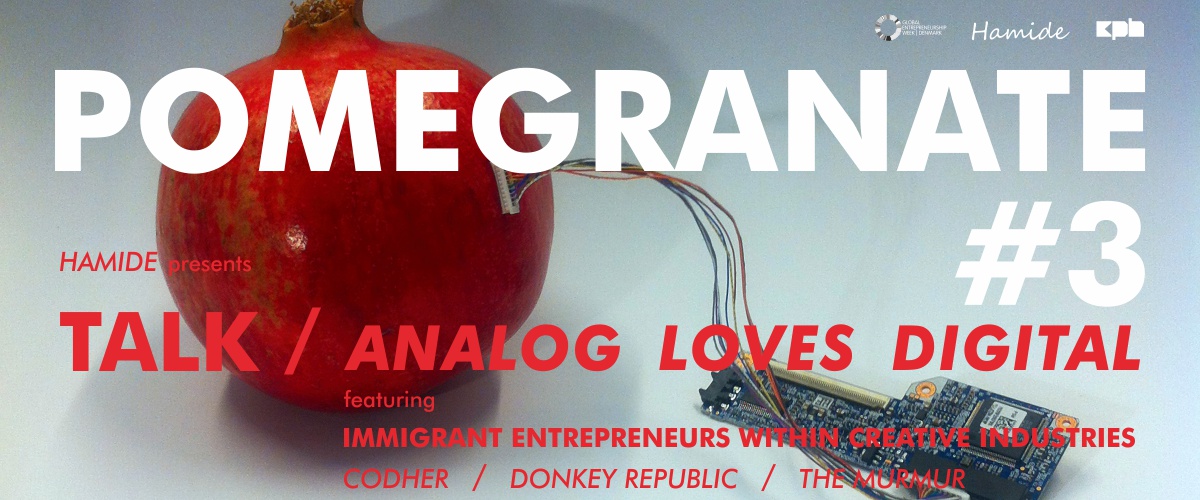 Pomegranate #3: Talk / Analog Loves Digital
featuring Immigrant Entrepreneurs within Creative Industries:
Codher / Donkey Republic / The Murmur
Pomegranate, a project by Copenhagen based Hamide Design Studio, is a platform bringing together creative professionals to question, experiment, play, challenge, change, reflect and connect. It consists of a series of events in various formats like talks, exhibitions, performances, and pop­up shops.
Pomegranate #3 is organized in the form of a talk within Global Entrepreneurship Week Denmark (Danmarks Iværksætteruge) in collaboration with KPH, a community for innovative startups and small growing businesses. Exploring GEW Denmark's theme "digitalization", Pomegranate #3 looks into the dialogue between analog and digital under the title "Analog Loves Digital". The talk introduces three successful immigrant entrepreneurs in Denmark within creative industries with businesses that use technology and / or new media to see the analog products and services with a new or enhanced perspective and social entrepreneurship projects that help people adapt to the digital era. The talk aims to explore the challenges and advantages digitalization brings as well as the social responsibilities businesses in creative industries hold in their response to digitalization.
By sharing successful and inspiring stories of immigrant entrepreneurs, Pomegranate #3 aims to not only reclaim the meaning of the word "immigrant" but also to add a positive connotation to it. It tries to introduce the contributions these immigrant entrepreneurs have made to the Danish business, cultural and social life. It positions itself as a much needed platform to share and discuss the challenges immigrant entrepreneurs experience and how the conditions could be improved. It also explores the role of Denmark and Copenhagen in these businesses.
The talk will be moderated by Hamide Design Studio and will introduce the following immigrant entrepreneurs and their businesses:
Plamena Cherneva / Codher
"A web developer by trade and entrepreneur by heart. Fascinated by technology, she stepped into the field at a very young age and has been fighting with "STEM is for men" stereotypes ever since. She is a founder of two startups and a co-founder of Codher – NGO which aims to close the gender gap in technology, to encourage and inspire women in STEM." (PC)
http://www.codher.com/
Erdem Ovacık / Donkey Republic
"I'm a social tech entrepreneur; believe we need to improve our social contract globally, and best way for me to contribute is to build companies that make a difference. I am also a big believer in direct democracy. Currently, I am working on Donkey Republic, which aims to disrupt urban transport using bicycles. We want to bring the spirit of AirBnb and practicality of Uber in getting a bike on the go wherever you are on the planet. With VC investment behind us, and a strong team of 20 in place, we are on a roll :)" (EO).
http://www.donkey.bike/
Peter Stanners / The Murmur
"Peter Stanners is co-founder and editor in chief of The Murmur, a monthly English-language newspaper. He has a background as a photographer and journalist, and first moved to Denmark with his family, aged 10. He has a BA in Philosophy from the University of Sheffield, and an MA in Photography and Urban Cultures from Goldsmiths College, University of the Arts London." (PS)
http://murmur.dk/
*Talks will be held in English.
20 November 2016
16:00 – 19:00
@ KPH
Enghavevej 80, 3. sal, 2450 Copenhagen
Free Entry
Registration is required via Eventbrite:
100 seats available