We Need a Break:
Trip to Louisiana Museum
In February we visited Louisiana Museum of Modern Art. If you are not familiar with the museum and Danish art scene it can be claimed that it is the most popular museum in Denmark. It also attracts a lot of international visitors. It is a short train trip away from us, located in Humlebæk. We visit the museum couple of times in a year but recently purchased the membership card so probably we will visit more often this year.
Currently the museum is presenting Picasso's ceramic works, large selection of George Condo's works, who is one of the important figures of early 80s New York art scene (museum states that his works were never presented in Scandinavia before) and another curation called 7 X Space X Time, curated by the museum's director; Poul Erik Tøyner, presenting the museum's collection in a new way to create new aesthetic experiences with the same collection.
It is always a pleasure to visit Louisiana Museum because of the location and the space itself in addition to the exhibitions. But i think we had even better time this time maybe because of the membership card. It makes you feel more connected and also gives you more freedom in terms of time. Moreover it comes with magazines and catalogs as well as little treats.
I enjoyed seeing Picasso's ceramics even though i would not say that they are so unconventional as the museum claims but i can say that they are influential and fun. There was also a lecture at the time. It was really low quality and boring. I do not recommend.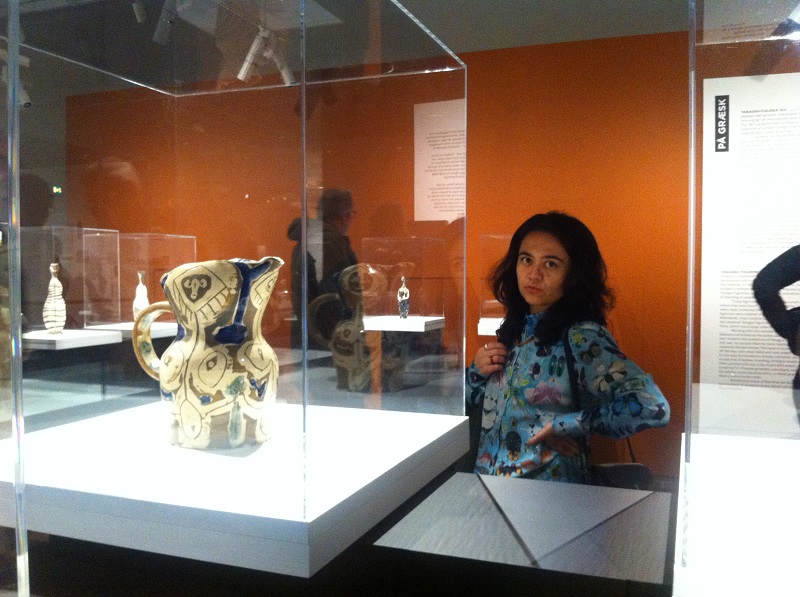 In fact the actual exhibition that i wanted to see was "Being There". The exhibition was not part of the current exhibition. It was about to end when Picasso exhibition had started. I really wanted to catch it and I am very happy that we did!
"Being There" is about our way of living, our experiences of the world, now, at the age of digitalization. It presents works by 10 contemporary artists. My favorites were the works by Pamela Rosenkranz which presents artificial Amazon Rain Forest and Bunny Rogers which is an installation depicting a memorial. Most of the works presented as quite expected artificial realities which are quite mediated. There is numbness, distance, and boredom. You can explore more here: https://en.louisiana.dk/exhibition/being-there
Şeyda Özçetin, co-founder & art director